There are large number of language tests in the world. Among them, there are countless English-related tests, such as TOEIC, TOEFL, ILETS, GMAT, SAT, GRE etc.
Among these numerous English tests, I will introduce four reasons why I recommend TOEFL and three points to keep in mind when learning.
*Easy difference between TOEIC, TOEFL, and ILETS (skip if not needed)
TOEIC will ask you if you have the ability to communicate in the business environment. There are two main types of TOEIC tests: Reading and Listening, or Speaking and Writing.Basically, it's good you can communicate, so there aren't many English words to memorize, and the measures for TOEFL are relatively easy, so you can expect high scores in a short period of time. TOEIC is mainly effective when you get a job in Asia.
In TOEFL, you will be asked whether you have ability to handle academic study at a foreign university, whether you can understand the English language, have ability to analyze information, understand the academic materials, have ability to summarize and compose sentences. Unlike TOEIC, the test consists of a set of Reading, Listening, Speaking, Writing. TOEFL is a prerequisite for entering American and European universities as a foreigner.
ILETS includes educational institutions such as universities, but it is an examination used when joining an overseas company, and the comprehensive ability of an individual in English will be asked. ILETS is also composed of a set of Reading, Listening, Speaking, Writing, but I feel that the test itself is a little easier than TOEFL. The questions are not centered on academic subjects like TOEFL, but like articles and how much you understand English as a linguistics.
4 reasons why you should take TOEFL
Improving overall English proficiency (especially listening)
TOEFL consists of Reading, Listening, Speaking, Writing. Therefore, comprehensive learning is necessary in order to aim for a high score overall score. In particular, the ability to listen increases dramatically because all of Listening, Speaking, and Writing except Reading contain elements of Listening. So, if you don't train your listening skills, you'll get stuck on the exam day. By studying TOEFL, you can expand the number of English words, understand synonyms and antonyms of words, and there are other things you can learn. An example is as follows.
Reading – Fast Reading and Understanding Various Studies
Listening – Short-term memory that remind you of what you hear in English and understanding of various disciplines
Speaking – The ability to summarize what you have heard and say what you have heard
Writing – Improving paraphrasing expression and sentence composition in English
Establishing of a wide range of knowledge
As TOEFL is selected as a requirement for admission to foreign universities, there are many questions related to education and knowledge that a university student must know.
For example, TOEFL can only study business, compared to TOEIC can study anthropology, archaeology, world civilization, American history and law, ecology, biology, botany, environmental issues, meteorology, astronomy, geology, human body, chemistry, physics, art, economics, architecture, psychology, advanced technology, etc.
TOEFL can be public proof of English proficiency
TOEFL is not very well known in Asia, but it is recognized by various institutions as a public proof of English in other countries and regions. TOEFL is a qualification that is very effective in application and is a must for those who wish to work abroad, such as in the United States or Europe.
TOEFL can motivate to learn English
This isn't limited to TOEFL, but personally,
I hope to go on to graduate school abroad
TOEFL is one of the graduation requirements of my university
I can obtain higher purity of learning
For the above three reasons, it led to motivation to keep studying English. The English test itself is a good motivation, but I think I could keep studying for the test because I fully understood the purpose and benefits of being able to satisfy my intellectual desire for knowledge of the future, usefulness after obtaining a certificate.
For these reasons, there are many advantages to learning TOEFL. However, there are some points to be careful about.
3 attentions you should keep in mind
The examination fee is expensive.
The examination fee ranges from $180 to $250, but when converted into Japanese yen, it is roughly 25,000 yen. By the way, TOEIC is 6500 yen, and ILETS is roughly the same price as TOEFL. To take one examination is expensive, so if you don't prepare well, you'll regret. The exam itself is difficult, but I recommend that you study in a planned way because you can take enough measures for TOEFL.
You can't learn conversational expressions like English conversation.
TOEFL consists of academic-centered questions, so you cannot learn the expressions necessary to speak slang with native speakers. It is true that there is speaking, but TOEFL will ask you whether you can summarize the content and accurately speak the information in time, so it is more important to be able to express them correctly in English.
Please note that the expressions and thinking methods used in English conversation are slightly different in TOEFL.
TOEFL takes a lot of time to prepare
This depends on your English ability, but suppose that you get a perfect score on the TOEIC and take the TOEFL with the same ability, you will surely get stuck. I guess you can get score between 30 and 40 (out of 120), because you have to keep in mind at least three times the number of English words required for TOEIC. In addition to this,
Understanding the background of various studies
rapid reading
short-term memory that enables to remember English content in English
familiarity with English
Speaking ability to summarize momentarily and actually speak in English
Writing skills for writing essays
and so on. It takes time to prepare, but it's definitely not a very difficult test. As much as you learned, your English would improve, but it seems difficult to reflect your score in TOEFL. You need time and perseverance and it is easy to be frustrated, so I recommend that you decide what you want to do in the future by taking the TOEFL before you take the exam.
In the end
TOEFL not only polishes up your English ability, but also allows you to learn a variety of abilities and knowledge that you will need in the future. For example, you will be able to express your opinion clearly, write a brief summary. Also, most of the academic knowledge is related to our lives. Knowledge is only knowledge, but I think it is necessary to enrich our inner lives.
TOEFL is difficult, but you can prepare and can get a lot from the process, so I really want you to try it!!!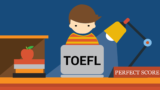 TOEFL 110 + strategy by a multi-lingualist
Do you have troubles what to use to study TOEFL? This article is based on advice from over 30 sites, YouTube and official TOEFL sites and on my experience as a multilingual in learning.
thumbnail – sfli.in