The difficulty of learning English is how to get used to natural English and absorb it. The answer for it is that TED talk that makes it possible efficiently.
People from academic experts, professors to the general public are sharing knowledge, information, life theory, and so on every day in TED talk. TED talk is originally for the intermediate to the superior. So why I recommend TED talk for learning English? There's a clear reason below.
10 Reasons why I recommend to Learn English through TED Talk
It is easy to associate English words with their contents and easy to memorize
The efficiency of language learning depends on how much it relates to your mother tongue. Interesting makes it easier to relate to a foreign language and mother tongue, and it makes language acquisition efficient and relatively easy. Also, there is a clear message that the presenter wants to convey, so it is consistent and relevant and memorable.
You can be familiar with many English pronunciation
Both Britain and the United States are famous with speaking  English, but there are differences in pronunciation in both countries. Also, English is recognized as a second language in the world. When communicating in English as a second language, it may take some time to understand even though the other person is speaking English if you are not familiar with the English language. (I have experience a lot, too.)
The relatively short presentation time makes it easy to focus on the video
What you need to learn a language is how long, long-term you can face it for a long time. As the video time is short, you can focus on the presenter's English, so the content is easy to remember.
There are various genres from academics to improving self-motivation
There are so many different genres in TED. You look for the genre that  you are interested in and watch the video. And if you get tired of it, you can change it to something else. That convenience is one of the reasons TED is recommended.
You can get up-to-date academic or fad information
Knowing the latest information is the same as understanding trends in the world. Information improves your knowledge or confidence. It would be killing three birds with one stone if you can learn English and gain confidence and you will know the current of the world.
You can refer to the presenter's presentation skills
The presenter in TED is a expert for presentation. It is an advantage of TED to be able to learn presentation skills from presenters as well as English. When you go into society, you have to learn not only presentation but also how to live in society. The technology can be obtained from what the presenter and the presenter say.
It doesn't cost any money
All you need is a smartphone and Wi-Fi. It really doesn't cost you money. I personally think that we can learn languages without spending money that way. If you have money, wouldn't it be better to travel or buy what you want?
the subtitle function help you to understand the content
The speaker's speaking speed varies in TED. Some people are fast and some are late. Some have good pronunciation and some have bad pronunciation. It's actually hard to hear. However, by understanding subtitles, you can understand English more .After repeating the process, you'd be able to understand English without subtitles.
Shadowing lets you learn not only listening but also speaking
Shadowing is a repeat of what the other person has said, and it is an essential skill for a translator to acquire a language that is being used. Once you get used to the presentation, try to actually make a sound (just moving lips will also work). then, you 'd definitely improves your speaking ability.
I'll let you know if it's difficult to make sense in the video
It's more like learning together than teaching. I am also an English learner who aims to enter American graduate school, so we are helping each other. I am confident in English, and even if I don't know it, I have many native English friends, so you can trust me!
In the last
TED is a great English learning content! Everything is sophisticated and fresh. The content is difficult, but the sense of accomplishment is beyond words!
Listening to various English first and getting used to it gives efficiency in learning English later. English may be difficult, but once you're able to do that, it'll be stimulating every day, like talking to foreigners or listening to English news you haven't heard so far! Keep going, no matter how difficult it is. That's the shortcut to language acquisition! Let's cheer up. (*'▽')
Also, the Chani Blog I'm introducing is translating videos on TED or YouTube into Japanese, English, and Korean, so I'd appreciate it if you could make them study materials!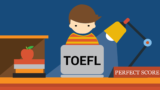 TOEFL 110 + strategy by a multi-lingualist
Do you have troubles what to use to study TOEFL? This article is based on advice from over 30 sites, YouTube and official TOEFL sites and on my experience as a multilingual in learning.
Reference : thumbnail – instantoffices.com